Building Your Drumming Chops
Building "chops" means improving endurance to play with speed and power while maintaining proper form and technique over time. The starting point in building up a drummer's chops starts with proper form, dedication to drum rudiments, and repetition. It's the last part, the repetition, where a good drum practice pad comes in handy. Don't listen to those that would lead you to believe that drumming on a pillow is a good way to build up resistance training. You'll only ruin a perfectly good pillow and also run the chance of developing the wrong arm muscles and muscle memory. While on the high-end of practice pads from a price perspective, the Prologix CRASH by Rich Redmond Practice Pad offers 3 practice surfaces in a single 12″ pad with varying levels of resistance to build up those chops.
Prologix CRASH by Rich Redmond Practice Pad
Who It's For: High-end practice pad for those that want the convenience of multiple surfaces in a single pad.
Pros: 3 different surfaces that build up endurance (aka "chops"). Added bonus that the soft surface also functions as a night time quiet practice pad.
Cons: Pricier drum pad
The Technicals
Named after Rich Redmond, the famous award-winning recording artist and touring drummer, the Prologix CRASH by Rich Redmond Practice Pad is a 12″ practice pad with a non-marking hard rim. Like other pads this size, you can either lay this on top of a standard snare stand, or just drum on it on any surface, including your lap. In terms of surfaces, the top side is split in half (red & black) offering two surfaces, while the reverse side functions as a third practice surface:
Top surface features a split top "deep-dish" surface

¾ inch Red Storm playing area – Medium resistance that feels similar to a standard pad
¾ inch Blackout playing area – High resistance with less rebound

Bottom surface features an 8mm, recycled Lava Vortex playing area for chop development
Low-volume, non-marking, Flex-Tech rim for precision rim shot execution and cross-stick simulation
Hands-on Playing
To develop faster hands that can play longer, it is helpful to have a practice pad that offers different resistance levels. Is this an absolute "must have" though? No. The better option is to put in the time and reps on a real drum, but that may not always be viable, and even for those that have the equipment, if there are any other people in the same living space, they will NOT appreciate listening to the hours upon hours of snare rudiments.
The black, high resistance surface is a good way to build up endurance as it produces less rebound. The added benefit, which is really useful, is that it's quiet and makes evening practice reasonable with others around you. For marching band season, the reverse side especially fits the drumline/battery style and produces a closer feel than other practice pads.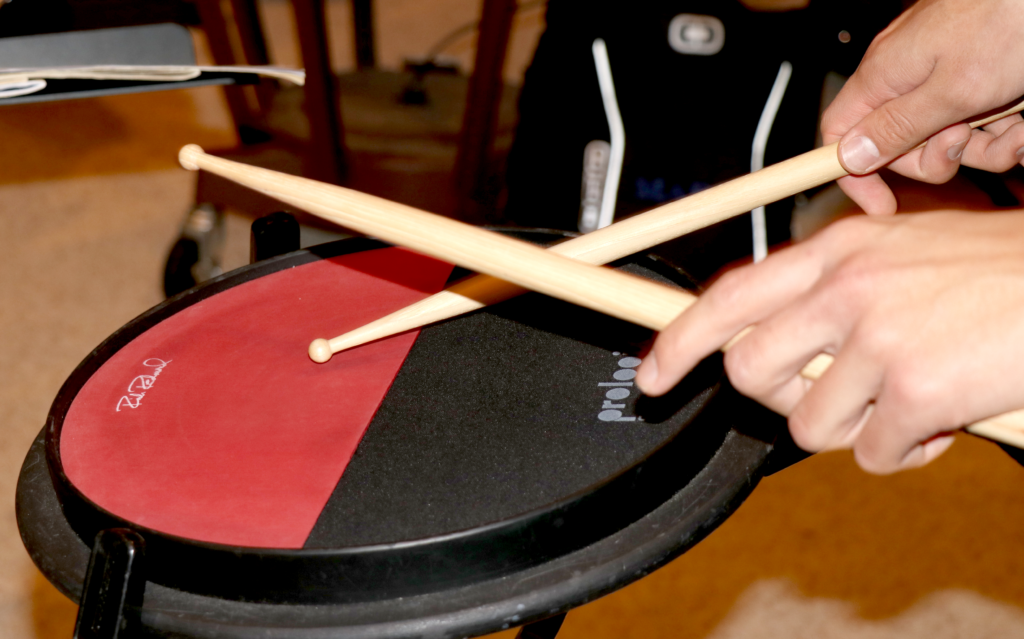 Final Thoughts
Practice pads are a common staple in the drummer and percussionist's toolkit. Having effectively three different types of pads in one, does help to save space and is VERY convenient when you need to pack just one pad. Although more expensive than a standard pad, the cost becomes comparable when you compare the price of having to buy two or three separate pads if you needed all surfaces.
The Prologix CRASH by Rich Redmond Practice Pad is always out in my drum room, and while I may not use it every day, it's a solid buy to help build chops while also providing the other benefits mentioned in this article.